Ultimate Tunis Cake recipe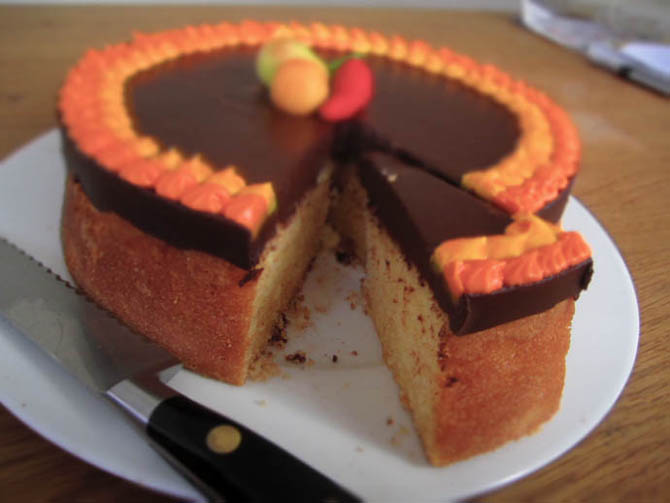 This is my ideal Tunis Cake recipe, it has a softer, richer chocolate topping than most supermarket versions and as a tribute to my seventies memories of the original the icing is a symphony of orange and brown.
Ingredients
Cake
250g butter
450g sugar
250g flour
75g corn flour
2 tsp baking powder
250ml milk
4 eggs
1 tsp vanilla extract
1 tsp lemon essence
Icing
250g milk chocolate
200g dark chocolate (70% cocoa solids)
100ml cream (35% fat)
Marzipan and food colouring (for fruits)
Royal Icing mixture

Acetate strip (long enough to go round your cake and approx 10cm/4" wide)
Method
Preheat oven to 170°C / 325°F / 150°C fan.
Cream the butter and sugar together until pale, fluffy and increased in volume. This is where you start to get the air in to the cake to make it fluffy and light so
Add eggs one at time, beating until combined between each addition.
Add vanilla extract and lemon essence.
Sift flour, corn flour and baking powder together in a separate bowl.
Add one third of flour mix to egg mixture, stir until combined.
Add 125ml milk, stir until combined.
Add next third of flour mix, stir until combined.
Add 125ml milk, stir until combined.
Add final third of flour mix, stir until combined.
Pour mixture into a well-lined 10"/25cm spring-form tin and bake for 90 mins or until a skewer comes out clean. (This seems like an awful time but you need to ensure it's cooked all the way through. Cover the top loosely with foil if it browns too quickly)
Cool cake for 10 mins in tin then remove the top half of the spring-form and let cool completely. (You may need to slice the top off if it has browned a little too much or is too domed)
Heat the cream until almost boiling then pour it over the finely chopped chocolate.
Whisk until the chocolate has melted and the ganache is smooth and glossy. (If your chocolate hasn't completely melted, place the bowl over a saucepan of simmering water and stir gently until all the solid parts disappear).
Place the acetate strip around your cake so the bottom edge comes to half way up the side of the cake. Pull the strip tight – so the bottom edge forms a ganache-leak-proof seal – and tape together.
Pour the warm ganache onto the top of the cake and leave to set – this could take a few hours, so don't panic it will set. (Do not refrigerate or your topping will go grainy).
Meanwhile make your marzipan fruits by moulding and painting with food colours. I chose a pear, an orange (or is it a Satsuma?) and a chilli – a departure from the traditional adornments, but they are my favourites and it is my cake!
Mix up the royal icing mixture with your own colour choice and pipe around edges. (The icing will have to be quite stiff. To be honest this is just showing off, the cake is just as ace with out it.)
Like all cakes it should not be stored in the fridge, as this will dry it out.
Serving suggestion: Massive slice with a cup of Earl Grey tea, whilst reading a Christmas catalogue.
16 comments on "Ultimate Tunis Cake recipe"