GBK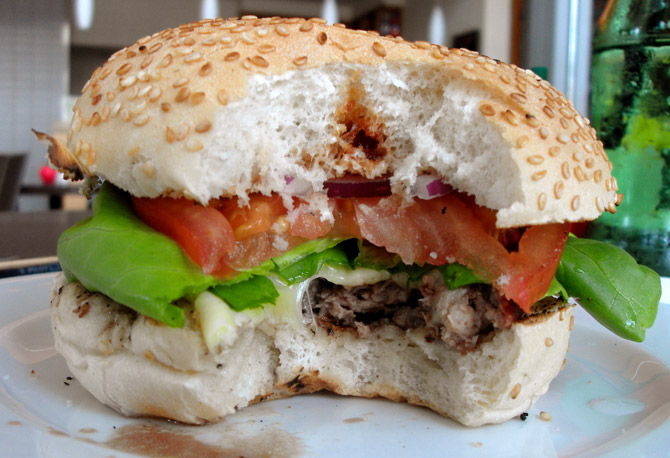 Cost £6.95
Weight 332g
Height 9.5cm
Diameter 12.5cm
Constituents Crown, relish, red onion, tomato, lettuce, real cheese, burger, mayo, heel.
Gourmet Burger Kitchen was started by Kiwi chef Peter Gordon, to try and replicate the burgers from his homeland. I assume New Zealand is proliferated by restaurants serving badly constructed,  expensive burgers, cooked with no real precision.
GBK appeals to the food snob lurking inside it's middle-class clientele, who are seduced by the promise of Angus beef and an apparent wall-full of choices. Reinforced, of course, by being reassuringly expensive.
There is no doubting the ideals behind fully-traceable Angus beef, and their ambitions to replicate antipodean burgers – always cooked fresh and crammed full of extras. But using great ingredients doesn't automatically create a great product, when the balance is wrong, it's wrong – regardless of the quality or provenance. The burger is topped with a cheddar that obviously refuses to melt, and is simply not big enough – overpowered by the other elements – and perhaps worst of all, the sour notes that come from the charring seem to have nothing balance them out.
I've paid a lot less than £6.95 for burnt sesame seeds in the past, and I will do again in the future. Just not here.
BMC rating 5