Is Heinz Tomato Ketchup as good as I think?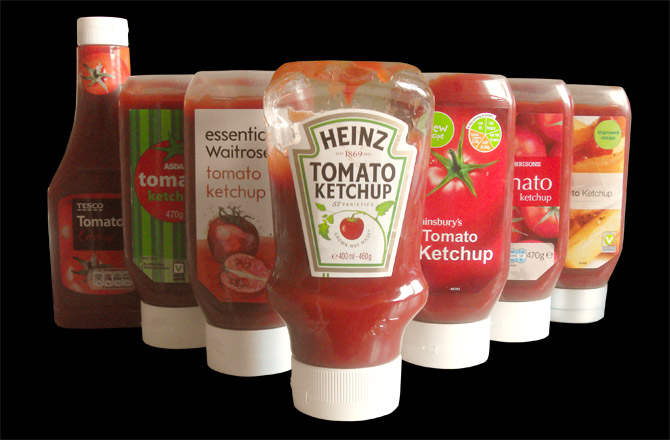 I was once told, by a wine maker, that for every bad bottle of wine you drink, you should take a good bottle and smash it against the wall. You are on this planet for only a limited time, so why spend it drinking bad wine? Well, take it from me, the same is true of tomato sauce.
When I did my 100 best foods, Heinz Tomato Ketchup was the second thing to be put on the list. I have had a long love affair with this particular, seductive red mistress and although other brands may have tried to tempt my tastebuds – my heart belongs to Heinz.
Now I'm older, and in the interests of food equality, I felt it was time to see if my condiment monogamy is misplaced.
The populist view is that supermarket own brands are
a)     made by the same people as the branded products
b)    all made by the same people, regardless of the supermarket.
c)     Are worth buying to save money
I collected own brand sauces from Tesco, Sainsburys, Morrisons, Asda, Waitrose and M&S to test these hypotheses. I have to admit to slight suspicions, given that 5 out of the 7 come in exactly the same bottle. These weren't helped by Sainburys and Waitrose both having the same nutritious breakdown and ingredients list as each other, then Morrisons and Asda shared the same information on their back labels!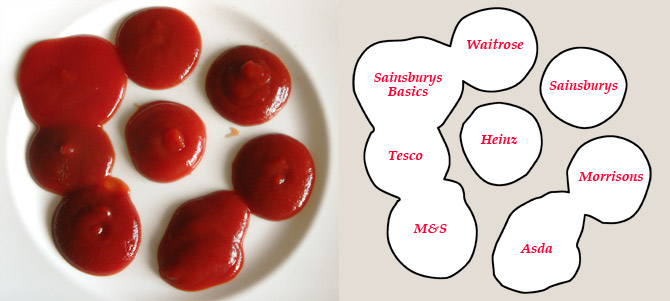 The only way to actually decide on whether they were the same was a taste test – so with a squirt of each and a bowl of McCain's crinkle cut oven chips to hand, I dived in.
They may share identical vessels and remarkably similar ingredients, but they don't taste the same. Waitrose was overly sweet, M&S tasted distinctly of plastic and Tesco seemed to have gone onion-powder crazy.
It would be foolish to regret the things I've done, but what was I thinking?
Heinz was head and shoulders above the rest – and I'm not just saying that, the balance of sweetness, acidity and umami was much better than any of the 'cheaper' own brands. I was right all along…
At least now I'll never sit alone in the dark and wonder what if? I know who I love and I know they love me.
Postscript
I've discovered since posting this, that in 2004 Malcolm Gladwell wrote an article entitled The Ketchup Conundrum which goes some way to explaining the reason why my heart and palate belong to Heinz.
2 comments on "Is Heinz Tomato Ketchup as good as I think?"