Wimpy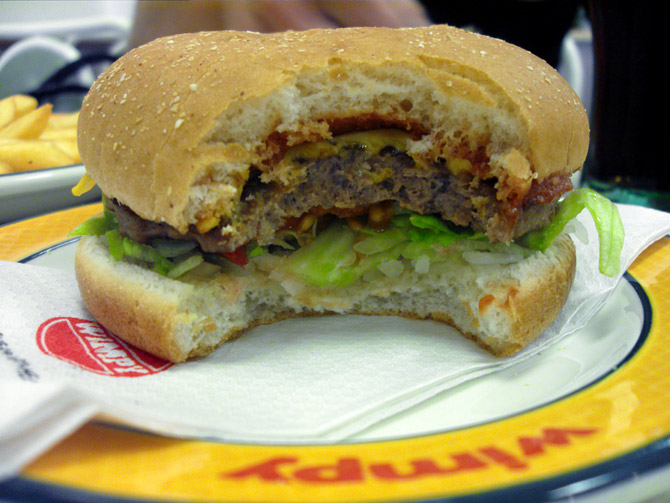 Cost £2.60
Weight 163g
Height 6cm
Diameter 9.7cm
Constituents Crown (looks like wholemeal but isn't), tomato sauce (lots), processed cheese slice, burger, tomato, shredded iceberg lettuce, heel.
Oh Wimpy… you had it all, and now look at you! Desperately mine-sweeping the dregs of the fast food trade, positioning franchises in places where the big players won't go (for a reason). Even at the turn of the 1980s, Wimpy held a special place in place in the heart of both British society and the British high street – frequented by a generation that they had introduced to hamburgers. They just didn't see it [McDonalds] coming!
The strangest thing is, during the intervening 30 years, they still haven't learned anything. If anything, they've gone backwards. Now they compete not with McDs and BK, but with caffs and sandwich bars, both of which must be able to offer cheaper prices and better service than I encountered.
I was told that the cheese and ham panini, tucked away on the final page of the laminated menu, would take 30minutes. THIRTY minutes for effectively a toasted sandwich! I was informed that they only sold 'about 2 a week' – yeah, no bloody wonder!!
The cheeseburger that I ordered took a good ten minutes and I'll never get that time back.
Although overpriced, and containing a patty that had not just been frozen, but subjected to Ice Age conditions, the cheeseburger itself was okay. Not good, not bad, just okay. What it did have in its favour, was its surroundings, making it look much better than it really was better.
BMC rating 6

One comment on "Wimpy"