The 10 worst food crimes
All of these fall under the banner, 'Just because you can, doesn't mean you should'. These are not foods i simply dislike – the list would be much longer – these are an affront to what food should be. There is no reason for any of these, to be anything other than a memory.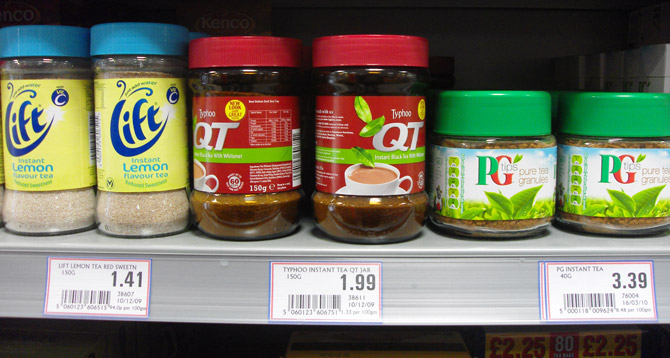 Instant tea granules
I can see the allure of instant coffee, no more faffing with coffee grinds, filters and endess paraphernalia, but instant tea? You need something more instant than a tea bag? Really? How pushed for time are you? Can't we all agree that the teabag is pretty much all we need when it comes to tea technology. Good, now let's move on and never speak of this powdered poo-in-a-jar again.
Overcooked pasta
Occasionally, very occasionally, people can be forgiven for taking their eye off the cooking ball, and ruining a meal through negligence. Is there any real excuse to overcook The Easiest Food In The World To Cook™ though? Pasta [dried, not poncy middle-class fresh] takes between 8-12 mins to cook, depending on shape, is that really too long a time to spend in front of the stove?
Sampling a piece every couple of minutes, is all you have to do to prevent a wonderful, sensual food stuff from becoming like wet toilet paper.
Meat substitutes
I'm not a huge fan of selective eating. I believe the less we cut out of our diet and the more we mess with the remaining food, the worse off we are. Which is why 'fake' meat troubles me so much. If you don't eat meat, then why would you want something that pretends to be meat, especially when it's been processed, to within an inch of its existence, to look like meat? If you abstain from animal flesh on the grounds of health, I can promise you that eating heavily coloured and flavoured shaped soy protein isn't going to be any better for you. If you abstain due to ethical reasons and you eat it, then you're just weird!
Carob
Do you know what carob is? Apart from being 'the stuff they use in health food shops'? It's a pod of a tree that's dried and ground up and owing to its slightly sweet nature they use as a chocolate substitute. Why? Unless you're a dog, it's no better for you than chocolate? Even vegans can eat chocolate, and if they can eat it, anyone can! Carob may have had a place in the ancient world, but then so did slaves and building pyramids. We've moved on to freedom, obituaries in the newspaper and delicious melt-in-the-mouth chocolate.
The beans of the pod are called locust beans as in locust bean gum – just incase you'd ever looked at a label and wondered how many beans there were in a locust.
Instant mashed potato
This country is blessed in many ways. Whilst we may not have terraces of olive trees, or be able to pluck a mango from a branch, at the point of perfect ripeness, we do grow a mean spud! Not just a few, no – millions of tonnes of the little buggers. Given this fact, along with, being able to buy this particular British crop all year round and it's relative low cost, why do we even make instant mashed potato? What signals do you give out, when you promote people's laziness as a strength? Too lazy to peel a potato and pop it in boiling water? Want to eat something with the texture of mud and the taste wallpaper paste? Have we got the very thing for you!
It's shit. I'm afraid, that's the only word for it.
Caffeine free Diet Coke
Diet Coke – nutritionally bankrupt, it's only saving grace, the small amount of caffeine and the sensation of drinking out of a cold can. Caffeine free Diet Coke – nada, zip, zilch, nothing. They have finally found a way of taking ALL the fun out of drinking pop. To drink CFDC is to announce to the world that you don't care anymore, that you have lost any ability to separate the pointless from the worthwhile and the mundane from the extraordinary.
Chicken
When it comes to chickens, mankind has shown its agricultural vulgar side. Once the preserve of a Sunday treat, it's become so ubiquitous that people have all but forgotten that it was once an animal. The production methods are wrong, the breeding methods are wrong and anyone who ever buys chicken, that isn't at least free-range, is wrong.
Microwave burgers
If something takes 30 seconds to cook, there is nothing more that needs to be said.
Chocolate flavoured coating
Something happened after the war, when British food slowly rebuilt itself from the ruins of rationing. Steps were put in place to introduce new technologies, to make the most of readily available ingredients, whilst the world got back to normal. Everything ticked along nicely and people slowly became more adventurous, using exotic ingredients to replace the replacements. Everything had it's natural, built in obsolescence. Except chocolate flavoured coating! This amalgam of vegetable oil and cocoa should have died along time ago, but it's still there – taking up valuable shelf space and dishing out disappointment in equal measures.
Pineapple on pizza
If you sliced carpaccio-thin sections of fresh pineapple and steeped them in contrasting and exotic flavours, then used them as the only topping on hand made dough, I would think you're making an effort to be interesting and different. But, open a tin of chunks and bung them on a flaccid, insipid, tasteless disc of chewy-cheese topped dough, and I won't be hiding my disdane. There is no reason to put pineapple on pizza, in fact I'll go as far as say all fruit should be banned from the list of toppings. I know tomato is a fruit and I include that too!
15 comments on "The 10 worst food crimes"