Revel Revel (your bag is a mess)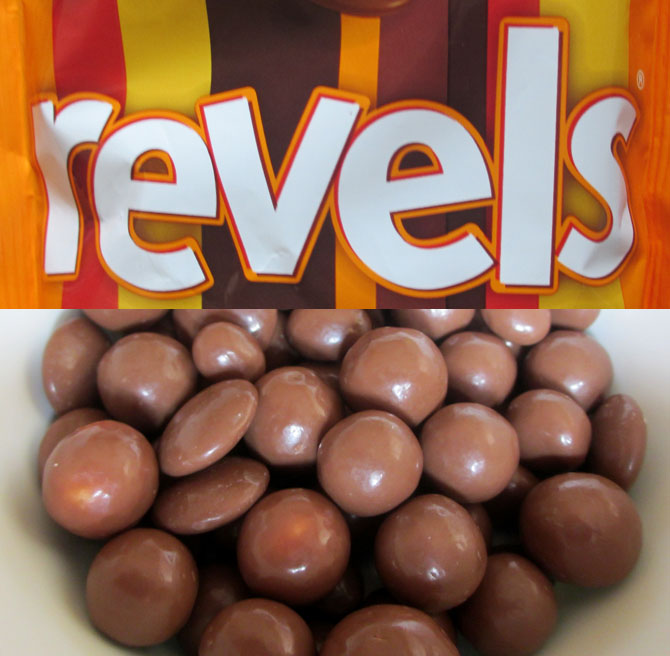 It's my dream to take a peek behind the confectioner's curtain and let light in upon the magic of how Britain's chocolate bars are made.
How do they get Maltesers so round?
What is that in a Milky Way?
Do they make one continuous Curly Wurly and cut it into pieces or are they all made separately?
It was whilst musing on these and munching on a bag of Revels that the question popped into my head, 'Why do I alway pick out a coffee one?' Was this the case or was it just my perception – reflecting the fact I don't really like Revels that much, and using coffee as a way of reinforcing my general Revels apathy??
There was only one way to find out – eat a load more!!
Method
So, I bought three 140g bags of Mars' favourite chocolate variety bags and dissected the  contents. It wasn't very scientific, I just sat there, ate them and wrote down what they were.
It's not rocket science after all.

Results


Interpretation of
Results
Given my results I was keen to see if Mars of Slough could cast any light to why some varieties were constant and others so variable. I contacted them and was, rather unfortunately* put through to their 'press office', which in reality is a PR company in London.
After a long conversation explaining what I was doing – exploring the distribution of Revels, was it random? Did people play a part in the mix? Was it researched so popular flavours are more constant? I was told that he could email all this info in a couple of days – after he'd found out.
And in a couple of days his reply duly arrived. It read
"The best thing about REVELS® is that you never quite know which one you are going to pick out. With the unique personality of the brand built around a product mix of MALTESERS®, Chocolate, Coffee, Raisin, Toffee and Orange, everyone has their favourites and it is the unpredictability of REVELS® that makes them so exciting to eat."
I think we can all agree that that answers all of my questions and more besides. Well done PR man.
Conclusion
It seems that my mind was playing tricks on me – coffee is never present in higher amounts than orange, or toffee. If you're a chocolate raisins fan you do run the risk of being disappointed – although if you buy Revels just for the raisins it probably serves you right.
And, I still don't really like Revels.
*I say unfortunately, because in my experience this PR company is not as friendly, proactive or thorough as many of the other lovely PR companies available.
One comment on "Revel Revel (your bag is a mess)"