The butchers table
The word meat is a funny thing – a generic term used to describe the flesh of myriad animals. It is loaded with economic and ethical connotations, with questions of sustainability over the intensive farming methods of the west. But there is so much more to meat than feedlot beef, crated pork and beak-trimmed chicken.
Welcome to the wonderful world of meat – periodic table stylee*.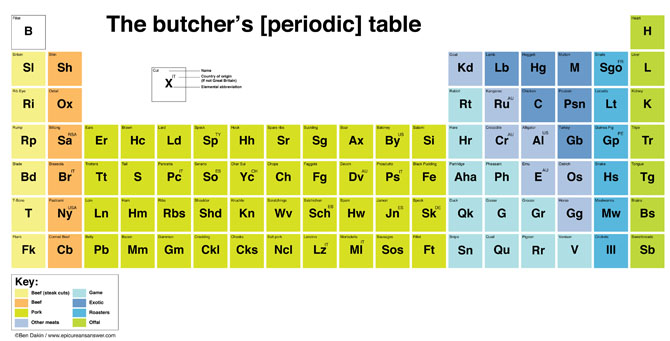 Click on the picture to view a version you can actually read.
For those of you who like your meat in HD click here to download the pdf.
If you love biscuits, and frankly who doesn't? You should click here to see elemental biscuits.
If you love chefs and the periodic table you should click here to see to see real molecular gastronomy.
*As suggested by Isaac aged 9
One comment on "The butchers table"