The 10 best crisps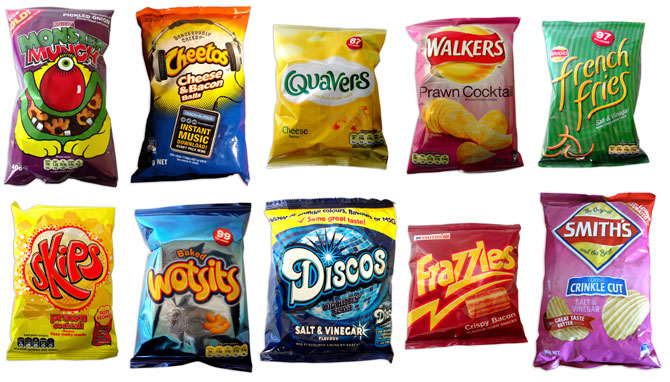 There are three divisive topics that will always lead to disagreements – Music, Religion and Crisps. Throughout cigar lounges and Gentlemen's clubs, the length and breadth of this fair land, brandies are being swirled and the merits of Salt & Vinegar verses Cheese & Onion are being furiously debated.
There is something immensely personal about crisps, they tie themselves to you and become 'your' crisps. My earliest food memories are based around my primary school daily dose of 6p KP Pickled Onion Outer Spacers, the pre-cursers to Space Raiders.
Since then there have been a litany of potato and corn based snacks, which I am able to count as my friends. Some are sadly departed [Cheese & Onion Ringos, Phineas Fogg Californian Corn Chips, Burger Bites and Frisps], others have fallen by the wayside [Salt & Vinegar Chipsticks, Cheese & Onion McCoys and Salt & Vinegar Hula Hoops], whilst a few have stayed with me on the journey. From those stalwarts I have picked ten, all of which I know I can call on, no matter what time of the day, and they'll be there for me.
Pickled onion Monster Munch

Suffering from revisionist history, the re-launch of 'original' Monster Munch has airbrushed out all the dubious decisions made by Walkers since they acquired them in 1995. Gone are the Beef Burger or Vanilla Ice Cream flavours and welcomed back with open arms are the original formulations for Roast Beef and Pickled Onion. They have bought back the original monsters, made them back to the old size, but conveniently forgotten that the Roast Beef flavour were a different shape!
Cheetos Cheese & Bacon Balls

Another snack which subscribes to The Malteser Box Syndrome. Where, there seems an unfathomable amount of said snack remaining – until The Tipping Point is reached, when, inexplicably they all vanish, leaving a single, solitary specimen nestling in a corner.
These Australian balls of umami – which are heavily weighted toward the cheese side of the flavour marriage, with just enough cured pig to put them ahead of the myriad snacks that share their finger-staining lurid colouring.
Quavers

I was never impressed with the Salt & Vinegar, or the Prawn Cocktail flavoured attempts – Quavers are cheese. FACT. Despite being made of potato, these floaty-light snacks weigh next to nothing. Whilst resembling unpalatable packing case filling, they in fact, taste quite delicious.
Walkers Prawn Cocktail

Despite being such a divisive flavour, this pink clad crisp manages to be friends with so many foods that it's always top of the lunchtime list. Whilst Cheese & Onion can be too subtle, and Ready Salted not quite enough, this is the pack that never lets you down. Coming up to nearly 30 years old, I still consider them a newcomer to the world of Walkers.
Salt & Vinegar French Fries

A strange silken patina, a weird airy honeycomb crispness and a slightly strange aftertaste – not top of the list of pre-requisites for a top ten snack food, you could say, and I would agree. Sometimes, however, three wrongs do make a right. I give you French Fries. Obviously named when their deep fried namesake had an allure of glamour, they have now taken on a life of their own – marketed [along with their 'sunseed' oil cousin, Wotsits] as a healthier crisp type snack. Don't let that put you off, these powerfully flavoured worms of joy are well worth a visit.
Skips

KP used to be proud of Skips, to the point of coming up with great ad campaigns ('They're floaty light!' Anyone?) and releasing slightly incongruous flavour varients. Now, however, they don't even put their logo on the packet! There is nothing to be ashamed of, in these crunchy prawn snack blossoms, in fact, a certain level of pride should be attached to something that can be reduced to a savoury paste, in one's mouth so quickly!
Wotsits

They now proudly pronounce their oven-baked credentials and their relatively lower calorie count, but they are on the list in spite of those boasts. In fact, had my memories not been filled with birthday party bowls, heaving full of these cheesy stubs, then those boasts may well have swayed me to the contrary. The joy of licking cheese essence, between crammed mouthfuls is what childhood memories are made of. These days multiple packs are required.
Salt & Vinegar Discos

They may look innocent, but these perfect circles are packed full of the very definition of Salt & Vinegar. Sharp, salty and acrid, they induce over-activity of the saliva glands, which is a good thing, given their propensity to seemingly suck moisture out of one's mouth. Due to their thickness, a splintered Disco can be a dangerous thing if due care and attention isn't taken in their consumption.
Frazzles

Despite tasting nothing like actual bacon, nor looking anything like actual bacon, Frazzles are THE bacon corn snack. Even though they aren't as prevalent as they once were, and there are so many other products vying for people's snack cash, there is still a certain craving that only these porcine essenced strips will feed. The packs have shrunk over the years and if you really want a powerful Frazzle hit, then to the supermarkets you must go, for the larger own brand bags.
Smiths (Australia) Salt & Vinegar

Ahhhh Australia, birthplace of so much that has enriched the world – the rotary clothes drier, Eric Bana, and Smiths Crinkle Cut Chips. Their Salt & Vinegar variant is the perfect foil for a chicken schnitzel sandwich, a can of Diet Coke or a six pack of VBs – a crisp of all trades.  Thick crinkle cut, like a Frisp on steroids, these are what McCoys wished they were.
27 comments on "The 10 best crisps"