The Syrup of Shame & The Water of Disappointment.
Every time I cross the threshold of Asda, no matter what is on the list, I come out feeling angry, stressed and ever so slightly bewildered. It may not be instantaneous, but it will happen – this time was no exception. Being no stranger to the store, I prepare, steeling myself for the limited varieties of product on the shelves. Top of today's list – maple syrup. Once an exotic mystery, known only through the pages of Richard Scarry books, it is now in every supermarket, in every town.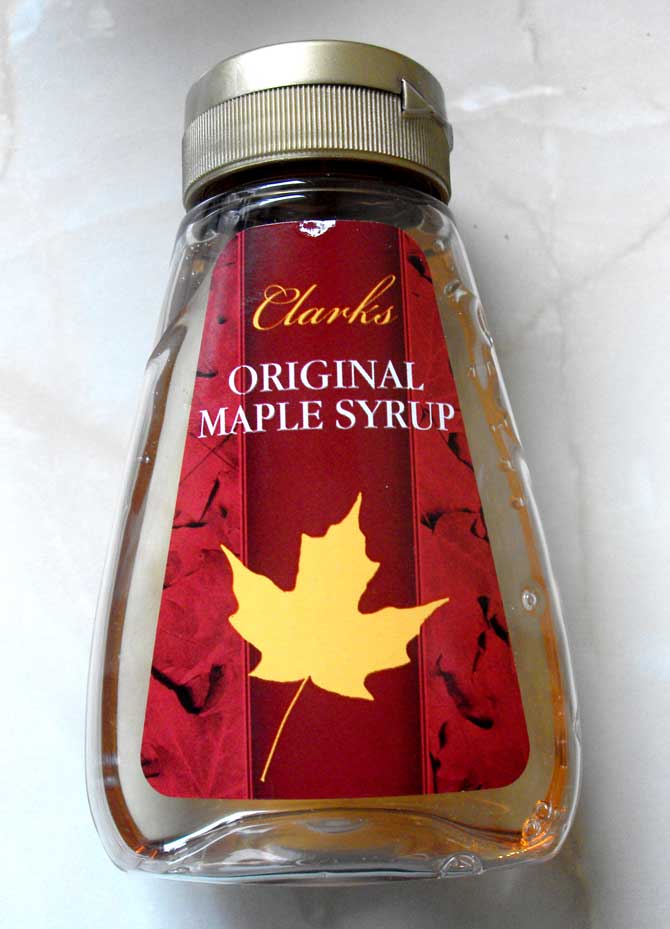 Maple syrup is an amazingly product in its own right. Produced from the sap of the Sugar Maple, Black Maple, Red Maple, or Silver Maple, it takes 40 litres of sap to produce 1 litre of the golden nectar. For this reason there is a natural expense attached to the product. Now, I know what it takes to make a bottle of Maple Syrup and will willingly pay up to five pounds for a bottle of this amber sweetness –which makes it even more of a mystery 'why I would pick up a bottle that was only £1.59?'
In my defence, Asda usually only stocks one variety of MS, which, having been caught short before, I know isn't very nice. So, on seeing a second variety, naturally I think 'Ooo that's new, perhaps it's an introductory offer? After all it is a smaller bottle, maybe…'. I should have known, like a bad episode of Hustle, I'd fallen for the short con – If it looks too good to be true etc.
Clark's Original Maple Syrup. Anyone want to guess what it contains? Maple Syrup? Yes, a whole 40%. The other three fifths? Carob syrup! I know what you're thinking, because that's exactly what I thought. In the US they have strict labelling laws which means if you label something maple syrup, it has to contain nothing but maple syrup, over here we obviously don't. The bizarre labelling laws in this country enable supermarkets and producers across the land to fudge, suggest and tweak the origins of the product. Pigs born and raised in crates in Denmark, never seeing daylight, shipped here and slaughtered. British pork.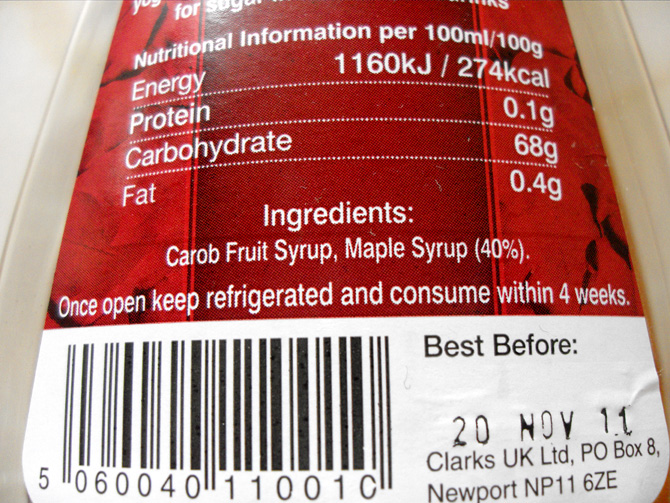 Although some of my ire is directed at Clark, a proportion is aimed at the grocery behemoth. Don't they have some kind of duty not to lie to their customers? It seems that Asda are not alone at seeing their customers as merely figures on a balance sheet (why does that seem like the most obvious sentence ever written?). Even the ultimate 'pop-in-to-get-some-bits' emporium isn't beyond taking the piss out of its loyal customer base.
May the following be entered as prosecution exhibit one.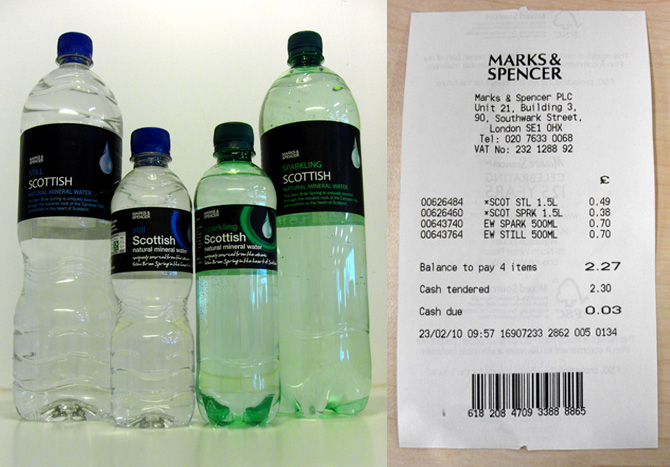 I'll just run through those figures again, because at first glance they could be a little confusing. 1.5l of Scottish mineral water is 49p, whilst 500ml of the same water is 70p. 1.5l of sparkling Scottish mineral water is a bargain 38p, whilst the 500ml bottle is, again, 70p. Leaving aside the question of why it costs more not to make water fizzy – why should 30% of the product be almost twice as much.
There are various arguments that I know M&S use to defend this pricing policy (although I'm waiting for my reply from Sir Stuart to have the definitive answer!), one of them is that the smaller bottles are part of the food-to-go range (despite no markings to indicate such inclusion), so are competitively priced compared to alternative beverages. I'm afraid this just doesn't hold water [forgive me!] – it's water, not Coke, or a smoothie, or juice – it's just water.
Take their core food-to-go business – sandwiches. They don't charge less for a triple pack, simply because a two is more convenient, nor do they competitively price all their sandwiches, because they are all sandwiches! I can't see them charging the same for their best selling prawn mayonnaise (£1.65) as they do for their Salt Beef & Gherkin stack (£3.75), can you?
They are taking advantage of people, just like all major retailers do. It's a shame, because whilst I always expect the worst of a visit to Asda, in my head I hold M&S in higher esteem. Maybe no retailer puts people before profit, but you've got to have a dream haven't you?
21 comments on "The Syrup of Shame & The Water of Disappointment."